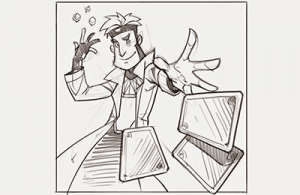 All of my credited work on DriveThruRPG and DM's Guild.
Dozens of RPG advice and theory articles, accompanying the weekly Crystal Heart page.
Getting Started with Magic Systems for WorldAnvil. (Writer)
Making the Magic: Worldbuilding Plotholes for writers and RPGs, for WorldAnvil (Video interview)
V-Squared (Hebrew), available here in English. (Writer)
In Hebrew:
On the Shoulders of Dwarves (על כתפי גמדים), Israel's main RPG podcast, 2012-2017, then continued in English.
Israel's main RPG magazines , 2000-2006: Demons Under the Sink (שדים מתחת לכיור), Gargoyle, and The 5th Face. (Writer)
The Goblin Industry (התעשיה הגובלינית), first organised Israeli content creators for D&D 3e, 2003-2005. (Writer and co-creator)
The 21st Face (הפאה העשרים ואחת), Israel's official D&D magazine, 2008-2009. (Writer and editor)
Play in Theory (משחק בתיאוריה), Israel's main RPG theory platform, 2009-2011. (Writer)
Vgames, Israel's main video game review website, 2001-2005. (Editor-in-chief and writer)
Worth mentioning:
I used to own and manage a board game and RPG store in Tel-Aviv (Dizengoff Center), Tactica, 2007-2009.
I translated or edited every major roleplaying book published in Israel between 2002 to 2018, including D&D 3th and 4th ed., Pathfinder, Exalted, Dungeon World and Little Wizards, as well as a few board games.
I organised and managed various positions in too many conventions to count, including Israel's Bigor and Icon.
I can drive and command a tank, but not at the same time.